Principles of Food Science
Looking for an elective science course that provides students with knowledge to take into the real world? Whether pursuing a career in the food industry or caring for a future family, students will learn about career opportunities, nutritional science, food safety and explore biology, chemistry and physics. Due to the scaffolding nature of the course, there are no pre-requisites for the course. The textbook is available WITH or WITHOUT 1-year Online Access for an individual teacher. See below for more details on the Instructor options. The Instructor Resources are only available with the student textbook, and not individual purchase. HC.
Topically, students are introduced to science of food, basic chemistry, organic chemistry (macronutrients), simple and complex carbohydrates, lipids, proteins, enzymes, food chemistry, vitamins and minerals, phytochemicals, food substitutes and additives, microbiology, fermentation, food safety, food preservation, and complex food systems. Current research, food science careers, food labeling, nutritional guidelines, digestion and metabolism are also covered.
The textbook offers 25 chapters plus 4 special topic chapters, an appendix, glossary and index. Content is well organized and detailed with vibrant illustrations. Featured throughout the chapters are: global issues, scientific concepts, historical highlights, recent research, nutrition news, food features various tips and items of interest. Each chapter also includes 3 lab experiments. Necessary supplies include household and lab specific items. Contact us or see our website for required items. Homeschoolers will easily be able to modify the lab requirements for home use without affecting the course quality. Chapter concludes with a summary, review questions, critical thinking activities, academic connections (reading, writing, research and communication for example), and STEM connections. No answers are included in the textbooks. HC. 858 pgs. Available at the publishers website, the included Companion Website, provides an interactive glossary, e-flashcards, matching and vocabulary activities, an additional lab activity (making beef stew), reproducible masters, and teaching visuals.
Lets look at the Instructor Resources. With this option, parents gain the tools necessary to successfully teach the course. The 1-Year Online Access includes an online textbook, the optional Lab Manual/Workbook and the Instructor Resources. The Instructor resources include lesson suggestions for 12, 18 and 36-week scheduling, strategies for teaching, introductory material, assessment techniques (including portfolios), test masters, content standards, lesson plans, answer keys for the textbook, tests, labs and lab manual/student workbook, instructor presentations, and more. Also includes the ExamView software download for personalized test creation and management. Access begins when the parent/teacher registers the course and is available for 365 days. High speed internet access is recommended.
The (optional) Lab Manual/Workbook includes chapter reinforcement activities and the lab experiments. The worksheets are a variety of fill in the blank activities, puzzles and other writing exercises. Lab activities are designed to be completed with instructor guidance. Some additional materials are necessary, many are household items, although others require more specific lab supplies, including a microscope. However, due to the sheer number of activities, parents can pick and choose the best options for their family. Workbook pages are printable pdf files or a print version will be available. Contact us for availability.
Worth mentioning, the included student materials are reproducible for homeschool and co-op/classroom use.
An excellent science elective for students interested in the culinary arts, nutrition or health related fields.
As one who took a nutritional science course in college, I wish I would have had this course in high school as it would have given me a definite advantage to mastering the content. I also appreciate the authors attempt to provide a balanced perspective on organics, artificial sweeteners, additives and other debated topics. ~Deanne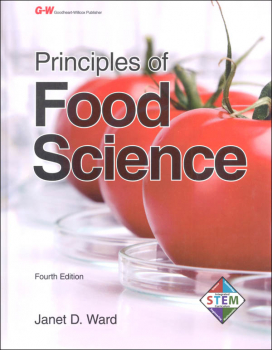 help desk software