Real Phonics: Learn to Read
If you're looking for a simple, effective and flexible phonics program, then you've come to the right place! Learn to Read with REAL Phonics begins with 6 common letter sounds and illustrated stories. The illustrated pictures provide children with visual clues to the words, enabling them to solidify the connection between letter sounds and the written word. Teacher notes are provided at the bottom of each page, creating a 'pick up and go' reading program for the busy parent. The instruction has not been separated into daily lesson plans, so parents, teachers, and children can move at their own pace. Writing practice and reading comprehension questions are included to provide a well-rounded preschool and kindergarten language arts program. Books One and Two are currently available, with Book Three scheduled to be released in 2015. Non-reproducible although additional writing pages are available free at the author's website. 120-130 pgs, pb.
In Book 1, children learn to recognize and write the entire alphabet. Letter sounds N, T, S, H, D and the short "a" are introduced first, as children read about Ann, an ant and a hat. Through Book 1, children will learn to write all 26 letters of the alphabet and sound out 19 consonants, short vowel words and the "th" sound. They are also introduced to four sight words (a, the, to and of) and simple punctuation (apostrophe "s"; exclamation points, question marks, and capitalization). At the conclusion of Book 1, children will know 96 words. While I did note a few words that may be challenging to new readers (ie. lift, hand), overall this is a gentle and fun introduction to reading for young ones.
Book 2 reviews and reinforces the lessons taught in the first book and introduces long vowels and adds the final five consonants (W, P, K, J and Z) as well as blends (ST, SM, DR, CK, SH, SW, ING, SL, OR, BL, SP and TR. Suffixes "es", "ed" and "ing" are also introduced as are compound words and multi-syllable words. At the conclusion of book 2, children will be able to read 156 new words.
Each book provides double sided flash cards designed to be cut out (I recommend laminating for additional durability). Also available are the Deluxe Flashcards, which are designed to be used with all three An Ant Learns to Read Books. The Deluxe Flashcards measure 4" x 6" and are printed on glossy, heavy weight cardstock. The 72 flash cards cover short and long vowel sounds, consonants, blends and the sight words: to, of, a, the, put, puts, blow, blows, want, wants, laugh, laughs, find, finds, what, where, do, you, give, gives, have, there, her and hers. ~Deanne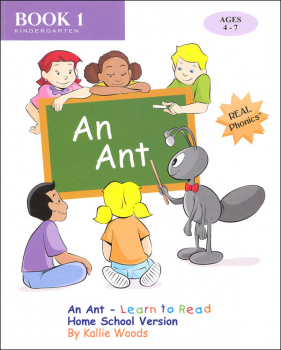 help desk software