TRISMS are very complete, thorough history-based unit studies that incorporate literature, science, history, geography, rhetoric, writing, vocabulary, art, music, and architecture. In fact, the only subjects not covered here are math, lab science, and foreign language! Periods of history are studied chronologically from the first civilizations through the present time from a religiously neutral perspective. Each study is designed to take a year and is made up of 18 unit plans, intended to take about two weeks to complete. The unit plans contain all assignments for the unit divided by subject and displayed in a nice grid format (which leaves plenty of space to pencil in other assignments as well). In each column of the grid, you'll see all assignments in that subject to be completed during the unit. At the bottom of the unit plan (or immediately after it), you'll find topics and personalities for further research, possible writing topics, map details, and historical events to plot on a timeline.
Several general worksheets are included for each area of study, and these are in the form of "questionnaires." Students will complete a variety of questionnaires for each unit studied. In Expansion of Civilization, there are questionnaires for each civilization, as well as each civilization's art, music, and architecture. In Age of Revolution, they'll complete questionnaires for U.S. Presidents, art, music, and architecture. Questionnaires offer the student the opportunity to independently research the time period, civilization, or person being studied and compile their findings into a basic fact sheet. Besides questionnaires, a variety of other worksheets is also provided which give opportunities to research and answer the questions posed. An interesting aspect of the research-based worksheets and questionnaires is that there is no ready source in the curriculum to find the answers; rather, it is up to the student to locate relevant books and references to help them. Although it may be a bit daunting at first, the constant research process is great college preparation and terrific practice for research papers as well. As they research to gather the information and organize it into their course book, they are also learning a great deal about that time period or culture as well as building a foundation to learn more. TRISMS doesn't leave you high and dry as far as locating resources though; they have included lengthy lists of resource books in the teacher's manuals.
The other assignments that are abbreviated on the unit plans are found in the student's book immediately after the unit plan. These usually consist of worksheets, excerpts from literature, and writing assignments. The reading assignments require no research on your end, as all excerpts have been thoughtfully reprinted in the student's book. Other assignments and worksheets are research-based, like the questionnaires, and require the student to find additional information to study the topic and answer a series of questions. In some units specific movies are recommended, and assignments may be based around analyzing the movie and answering questions about it. Writing assignments corresponding to Institute for Excellence in Writing's Teaching Writing Structure & Style are also included in each unit. IEW-related assignments in each unit direct the student to specific units and pages in the Teaching Writing Structure & Style program, and the TRISMS writing assignments in that unit follow what is taught in the TWSS writing program. Coverage is solid too; in fact, the entire syllabus of TWSS is covered in each TRISMS set, so if you covered the whole span of history with TRISMS during high school, you would be going through the TWSS syllabus several times and getting plenty of writing practice! Depending on the time era you are using, there are also opportunities to extend studies into subjects such as economics or philosophy. Suggestions for doing so are found in the teacher's manual. After completing all projects and questionnaires for a unit, students will organize these into a course book, which serves as a reminder of what they have studied and a kind of "textbook" for them to read and study from. As you may expect from a classical curriculum such as TRISMS, the literature and writing component here is pretty hefty. Multiple literature activities are included in each unit and involve reading books and passages and writing essay questions, summarizing, writing outlines, completing book reports, and much, much more.
Each set is composed of three pieces - the teacher's manual, the student assignment book, and the student packet. The teacher's manual includes a table of all time periods studied, a "literature table of contents" which lists all literature studied, a lengthy orientation to help get you started, and an equally lengthy resource and reading list to help you locate resources. The resource list is divided by unit and includes details such as the reading level and type of resource (audio, periodical, book, etc.). The teacher's manual also functions as an answer key and includes copies of the student's unit plan, answers to worksheets and questionnaires, quiz keys, and test keys. The student assignment book includes the time and literature tables of contents, the same orientation which is found in the teacher's book, unit plan grids, assignments, and literature selections. The end of the book also includes literature study helps and rhetoric helps. All worksheets, questionnaires, and tests are found in the loose-leaf student pack. These are three-hole punched and designed to be placed into a binder when completed.
The format and fairly open-ended content of these studies make them relatively easy to use with students of varying abilities, and suggestions for use with younger students are included as well. It's a very complete, heavy-duty curriculum that will challenge students of all different ages with the volume of information they will learn, and through the literature assignments, questionnaires, map work, and other assignments they are sure to know the material well when they complete this course. They will also acquire an appreciation for the many different cultures and civilizations throughout history, giving them a solid and well-rounded historical foundation which will aid them in college and beyond. As with most unit study approaches, by focusing on history through all other subjects, you will truly glean more than history isolated from other school subjects and only studied in small increments a day. If it is true that you get out of something what you put in, they are sure to come away with a wealth of knowledge at the end of this curriculum! - Jess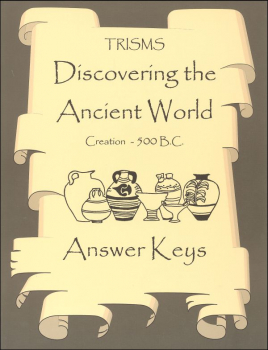 help desk software