Great Documents in U.S. History
When learning history, sometimes it is important to "place" ourselves at the time being studied, instead of always looking at the past with 21st-century eyes. Reading and analyzing documents and writings of the times can be a valuable part of learning history. This series of books looks at important documents in U.S. history, and gives students the opportunity to read them, understand the vocabulary used, comprehend what it says, understand what it means (or meant, at the time), connect it to other events or ideas in history, and relate it to our lives today. There are 20 complete lessons in each book, and since they are so meaty, you may choose to spend several days focusing on one document, or slip these lessons into your U.S. history program where they fit and spend a whole class time on one document. A selection of documents (excerpts or documents in their entirety) from Book 1 includes: the "Mayflower Compact," Common Sense, "George Washington's Farewell Address," a Letter from Chief John Ross on Cherokee Indian removal from Georgia, and the "Discourse on Women" by Lucretia Mott. Examples from Book 2 include: an excerpt from The Jungle, Eleanor Roosevelt's resignation from the Daughters of the American Revolution, the Truman Doctrine, and President Bush's speech to Congress about 9/11.
Each lesson begins with the name of the document, the author(s) if applicable, and the year in which it was written. Several paragraphs on the historical context of the document and its importance begin the lesson, and then students read the document. Documents are usually between 1 and 3 pages in length, and are visually "separated" from the rest of the pages by a gray, tattered, parchment-like background. Following the document is a list of vocabulary words (with definitions) which were encountered in the document, but may be unknown to students. Five sets of questions follow, digging deeper into the lesson with each set. The first set of questions are comprehension and recall questions, which are pretty straight-forward. A set of critical thinking questions follow, which ask the student more in-depth questions about parts of the document. "Making Connections" questions are next, and ask students to connect what they have learned from the document to other sources, or historical facts. The fourth group of questions is entitled "Relating the Past to Our Lives." These often ask the student to compare ideas from the document to their lives today, or consider what effect, if any, the document may have had on our lives today. Sometimes the student is asked to put themselves into the place of the author, or a group of people. Several essay questions complete the lesson, and could be used as a discussion, or writing assignments.
This would make a great supplement to any U.S. history study. The document choices are interesting and relevant, and the variety of questions is excellent. An answer key is provided at the end of each book. – Jess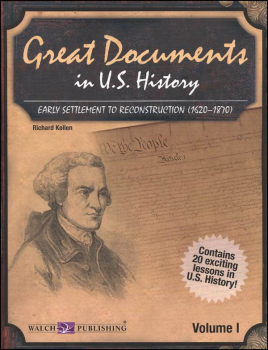 help desk software