Math drill is a subject that lends itself well to the computer - and there are many such programs available. After reading Mary Pride's accolades about this one, we decided to give it a try. The program has one basic game - a quarter mile race - though you can race with dragsters or horses. The sound effects are simple, but appropriate - roaring engines, or horse trotting (the sound is adjustable, and you can turn it off). But, in this case, simple is fine. The racing theme is extremely motivating and the best part is that you're racing against yourself! Once you've raced several times, the other cars or horses in the race are your own five best times. Since the time is kept to thousandths of a second, any small improvement results in a win. Questions appear at the bottom of the screen. You have to respond as quickly as possible. Every time you type in a correct response, your dragster or horse gains speed. Incorrect responses don't beep at you, but just reappear so you can correct them. In the easier topics, problems you've had trouble with will appear more often so you can practice them. In more challenging topics, problems also appear in increasing levels of difficulty. The faster and more accurately you answer the questions, the better your time. After each race, the program displays the average of your top five runs. When you're done playing, you save your file. A list of all other players with files displays each player's top five average, along with rankings, so you can see how you're doing compared to other players. Because the software is set up so ideally for tournament play, Barnum has encouraged and even sponsors tournaments among players of The Quarter Mile software (if you subscribe to Practical Home Schooling, you'll see the Grand Champion of the 4th annual tournament on the cover of issue #20 - Mary Pride's daughter, Sarah). Information is included with each Quarter Mile purchase (there's even a separate Tournament Handbook!) about conducting tournaments yourself (you might want to do this within your support group, for example), and about their own international tournaments.
Although the play is the same, there are actually several different programs that concentrate on specific skill areas. Within programs, there are also different topics (see below), so you can practice extensively a wealth of math skills. The Quarter Mile Cross-Section program contains a cross-section of 73 key topics taken from the different programs available. It features 16,000 problems. The Level 1-3 Bundle is the complete version, covering 323 topics (place value, rounding, fractions, estimation, equations, etc.) and over 70,000 problems. Subset programs include: Level 1 (for grades K-3) with 174 topics and 22,000 problems; Level 2 (for grades 4-6) with 214 topics and 33,000 problems; Level 3 (for grades 6-9) with 71 topics and 29,000 problems; Levels 1 & 2 Bundle (for grades K-6) with 297 topics with 53,000 problems (includes all topics from the Level 1 and Level 2 programs); and the Levels 2 & 3 Bundle (for grades 4-9) with 244 topics and 50,000 problems (includes all topics from the Level 2 and Level 3 programs). If you would like to see a scope and sequence of topics covered, go to www.Thequartermile.com.
Practical Homeschooling #20 carries an impressive cover story about The Quarter Mile and its tournament. Apparently, the only area in which homeschoolers lag behind their public school counterparts on standardized tests is in math computation speed. Perhaps we place less value on drill and more on concept - or lack flashcard "competition" for our children. For whatever reason, this is an area in which many homeschooled students can improve. Because this software's focus is speed, it is an extremely effective remedy for sluggish computational response. In Barnum's 4th annual tournament, although only 4% of the participants were homeschooled, many were on the winner's list.
System requirements: Windows XP, 7, 8 and 10.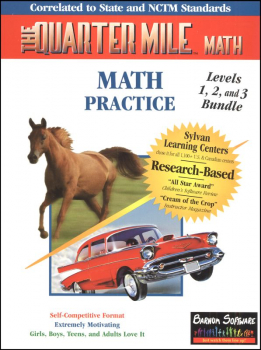 help desk software