Histography Survey of the States
Designed for independent learners, this survey of the 50 United States introduces students to each state and its influence on our great nation. Each chapter (textbook) covers 10 states in alphabetical order. Individual states are given approximately 4 pages in the textbook and cover historical impact, contemporary issues including natural catastrophe, notable physical geography, inventions that supported capitalism, and men and women who impacted social, religious, and political issues. This information is presented neutrally with no Christian teaching but there is an emphasis on good character and personal responsibility. Each state features a positive life principle with application to the state or a famous person from the state.
Required components for the course are sold individually or in a boxed set. Textbooks (5) are approximately 40 pgs. each and provide textual information, along with black and white photos, graphs, maps and charts to reinforce the textual information. Vocabulary words are in bold with a vocabulary box with definition on the same page. Corresponding activity books (5) include fill in the blank, multiple choice and matching exercises. The 30-35 page Activity books are consumable; each student will need her own copy. The Teacher Resource Kit is 3-hole punched and includes answer keys for the activity pages, 10 section quizzes and answers, and chapter tests (5) with answers. Also included is a digital download of components. According to the publisher, this is appropriate for one social studies credit for grades 7-9. In the final pages of the final textbook, the author provides a brief list of recommended resources for historical novels. Biographies, historical fiction or historical movies and documentaries would be an excellent addition to this course.
Please note that in several chapters (Arkansas, California, Iowa and possibly several others) there are some serious topics mentioned such as sex trafficking, pornography and abuse. Often this is in the context of discussing runaway teens and dropouts who find themselves victim to these situations. You may want to preview this material and opt whether or not to cover it in those chapters. ~ Deanne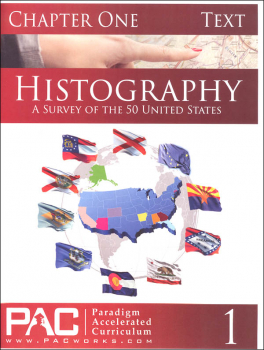 help desk software