Worldviews can be a very heavy topic, but students should be prepared for what they will face at the college level and beyond. Society has taken a turn away from God in favor of other belief systems. How do students begin to understand what they, and others believe? Because they have so many unanswered questions, many Christians walk away from their faith and begin doubting God's Word. Students need to listen analytically and learn to question the 'great thinkers' who have helped to shape our society and thinking. They need to go into the world prepared for the worldview battle they will encounter.
The Student Text tackles explanations of today's worldviews and conflicts. Chapters 3 through 15 treat Worldviews in Philosophy, chapters 16 through 20 covers Worldviews in Literature, and chapter 21 is Worldviews in Culture. Worldviews in Philosophy addresses the thinking of great philosophers - Thomas Aquinas, René Descartes, John Locke, Jean-Jacques Rousseau, Karl Marx, Ralph Waldo Emerson, Jeremy Bentham, Charles Darwin, Friedrich Nietzsche, John Dewey, and Jean-Paul Sartre. In these chapters, students will also learn about the conflict for Christianity from history - this is not a new battle front.
Worldviews in Literature includes William Shakespeare, Nathaniel Hawthorne, Mark Twain, Ernest Hemingway, and John Steinbeck. You will learn about their worldviews and their works, along with the message their writings convey.
Worldviews in Culture (Chapter 21) is also titled Pandora's Machine – a review of the past 50 years: "someone must have opened Pandora's Box." With a current copyright, chapter 21 addresses pop stars and celebrities that will be well-known to many students – Lady Gaga, Katy Perry, and the Beatles, to name a few. Many people preach a message that is counter to what the Bible teaches, yet we may choose to listen and accept their words. Students and parents alike can benefit from learning to analyze the content of their messages. 632 pgs, hc.
The Teacher Guide guides the parent and student through the content of this course. A weekly lesson schedule lays out a schedule of 3 days per week (30 to 45 minutes per lesson) to equal a one-year course (one credit) in Cultural Philosophy. The schedule also provides space to write due dates and grades for each assignment. Answer keys, worksheets, and tests are also found in the teacher guide, perforated for easy removal and 3-hole punched for notebook storage. Worksheets are labeled at the top of the page with the day on which it is to be done and the corresponding chapter. These might include vocabulary, study questions, and application questions. There are five essay assignments with a word range of 750 to 1000. There are five exams to be taken throughout the course that include a variety of questions – matching, multiple choice, short answer, fill-in-the-blank, identification, ordering of events, and true/false. 298 pgs, pb.
Help your students be prepared for what is beyond home and church by teaching them to question and analyze – prepare them for the battle for their mind and soul. ~ Donna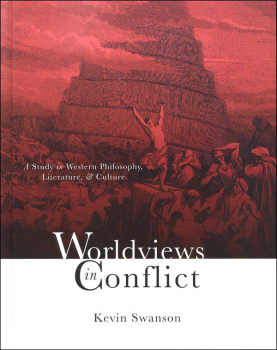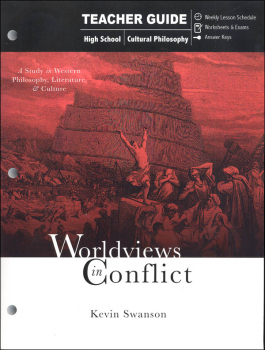 help desk software