Veritas Press History of Art
Why study art, or art history, for that matter? Well, as Michelangelo said, "Every good painting is noble and devotional in itself and therefore is able to honor God, whether or not the artist is a believer." This art history curriculum utilizes that concept through studies of great works of art from Creation to Contemporary (as the subtitle indicates) from a decidedly Christian perspective. While significant works of western art are included, the course also highlights distinctively Christian art. Within these constraints, folk art, Eastern art, etc., are, therefore, not included.
First off, this is perhaps the most luxurious "workbook" I've ever seen. The illustrations are absolutely outstanding! I felt as though I was reading an actual art history text. Most of the images included are full-color representations of originals. I can see children pouring over these pages again and again (I did!). The text gives a sound overview: you'll learn major art movement terms, vocabulary, art in chronological sequence, recognition of art and also art movements (art periods), key historical events during that art movement, and more. The main goals are to learn these key movements of Western art history, viewing them through the lens of Christianity, while connecting them chronologically in history.
The course is designed to cover 32 art movements (one per week, 5 days per week) if using the one-year plan. After introducing the art movement with the workbook's reading material and that week's flashcard, students repeat and review this material in different ways throughout the week (discussion, drill, playing included games, vocabulary review, etc.). Then, one day is designed for an art-related project or activity and the final day culminates in a quiz (provided). A hefty volume, the Workbook serves simultaneously as the text and as a consumable workbook: each student will complete readings and comprehension questions right in the book. Younger children could work orally alongside older students. The workbook components include an introduction, a student worksheet in which questions progress in difficulty, an art study, vocabulary review, quizzes and periodic cumulative reviews. In the back you'll find a full-color timeline and an art memory game, as well as the written music and lyrics for The Great Art History Song (set to the tune of Jesu, Joy of Man's Desiring). Activities are varied to encompass a wide age range: those for younger ages are more hands-on and those for older ages are more text-based. Supplies needed are listed with the activities and are easily obtainable. One unique, inspiring feature is periodic "interviews" of historical and modern-day professional artists who are Christians. I also appreciated the discussions regarding some of those controversial art topics such as nudity. For example, a reading assignment for older students is entitled, Naked vs Nudity and hints at a distinction the author makes. However, pictured images are appropriate for all ages.
The 32 Flashcards contain a full-color example of each period's art on one side and an in-depth discussion (and sometimes an additional example) on the other. Answers to all worksheets will be found on the flashcards. Therefore, if you are using the workbook, you must have the flashcards. However, as a supplement to your art curriculum, you could use the flashcards without the workbook. Flashcards are 5" x 8", laminated, with rounded edges.
This course can be fully integrated with the Veritas History program, utilizing it periodically from second through sixth grade. To correctly sequence the art curriculum, each of the Art Flashcards contains a colored bar across the top that matches Veritas' history cards and the timelines on the Art workbook overview pages use the history card number system. I can see this course also dovetailing with other history-focused curriculum, though not quite as seamlessly. However, this course can also be used in one year as an Art History course on its own. In this case, the publisher recommends using it in the middle school years. Whether you follow a history-focused curriculum or not, History of Art is a solid addition to your curriculum. This will very well be a student book you'll keep around as a reference. Highly recommend! Workbook is 8.5" x 11", 328 pp, sc. ~ Ruth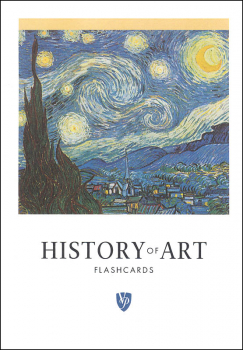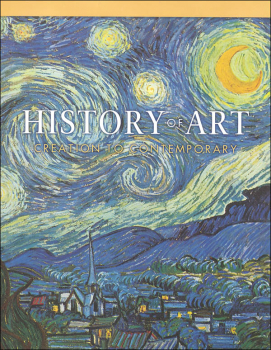 help desk software