Cut & Paste Books Sentences
Use this series to add a hands-on element to your curriculum at the kindergarten and first grade levels. Sometimes just hearing things isn't enough, so this series offers children an opportunity to cut, paste, and manipulate words in a way that will help cement concepts.
The front section of each book offers numbered instruction for the use of these books in a small group, or adapt for individual students. There are five easy steps for both the vocabulary and word family workbooks - cut, arrange, glue, write, and color. Activity pages are reproducible and are printed only on one side of each page. Icons serve as visual cues, so students can see the steps they are to follow.
Each lesson looks like this: students look at the words placed at the bottom of the page and identify the first and last words of the sentence (first word has a capital letter, last word has an end mark); read the words in order; cut the words apart; arrange them in the correct order; glue them in the correct space; write the sentence on the line; color and finish the illustration.
In Word Family Sentences, students will practice 37 phonograms. Students are given part of a word and asked to choose the phoneme that makes most sense in this sentence. Sometimes, more than one phoneme will work - that's alright, student's pick the one they like best. After completing the sentence with their chosen phoneme, they then finish their illustration based on their word choice. For example, students are given the words up!, finally, *He, ___oke. Students can see that "He" is the first word of their sentence and "up!" is the last word of their sentence. They are given a choice of the letters w, sm, sp, j, and ch to place in front of ___oke. So, they can choose from woke, smoke, spoke, joke, and choke. The only two words that work in the sentence are, "He finally "woke" up!" "He finally 'spoke' up!" Students then finish the illustration according to the word they chose.
Vocabulary Sentences doesn't have the missing word element, but the process is the same for sequencing, cutting, pasting, and writing. The sentences either make a statement or ask a question that students will use in completing their illustration. Students will read over 100 sight words and over 75 vocabulary words. A four-page chart at the front of the book lists the vocabulary and sight words and the corresponding page numbers. This allows you to do the pages in order or do them by the words you want to reinforce.
Reinforce and enhance your curriculum, or use these as introduction or review of materials. Not only do these work on language arts skills, but thinking skills will be honed as they have to think about the proper sequencing of the words for their sentences and completion of their picture. ~ Donna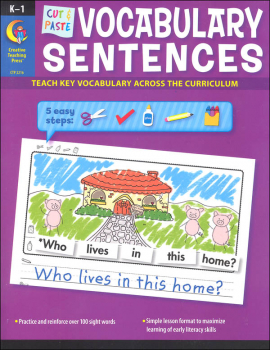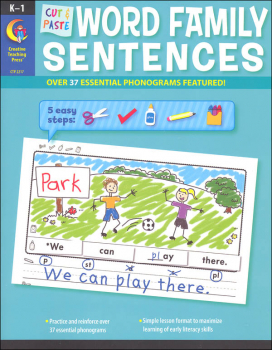 help desk software