Craft Right Brain Readers 3rd Grade
The first reader in the Grade 3 series of Craft Right Brain Student Readers is "Enjoy the Ride!" As your student enjoys the story, underlined words indicate there is a corresponding sight word card. Some of the sounds covered include: aw, ou, oo, ew, oa, a final y, ind, ild, ire, are, igh, old, olt, ost, er, ir, ur, oi, oy, qu, and ie. The sight words cards include: together, small, through, myself, only, father, head, show, engine, and more.
About the Right Brain Readers: These specialized, tailor-made Right Brain Student Readers were created by Dianne Craft (Special Education teacher), for her students struggling with reading and particularly auditory processing problems. The teaching method used in these Right Brain Student Readers is truly one of a kind. Anyone can use the Readers and find success!
This carefully engineered, Orton Gillingham-based phonics method, introduces sounds and Sight Words in a manner that ensures success for even the most struggling student. Experience has shown that this Right Brain Visual Reading Method will work when others haven't. The Right Brain Reader uses the imbedding technique to teach phonemes with picture and color, directly on the reading pages. This imbedding method takes all the stress out of memorizing sounds.
The Instant Success Right Brain Sight Word cards, created specifically for each story, are included with each Student Reader. The result is that word memorization becomes dramatically easier for the student. And the bonus is that they will be able to SPELL all the Sight Words easily, because the words will be stored in the student's photographic memory! The 36 cards are on a book ring with instructions. The glossy, durable cards measure 8 ½" x 2 ½", are brightly illustrated, and have sentences on the back which relate to the word illustrations.
Research has shown that by using colored reading transparencies, the stress on the child's visual system is greatly reduced. Reversals are much less frequent, as are wiggling words and skipping words. Two colors are included in the front of each reader (3.75"x 8").
According to pre- and post-testing, plus teacher and parent reports, these are the BEST reading books for kids with dyslexia and struggling readers…hands down! ~Sara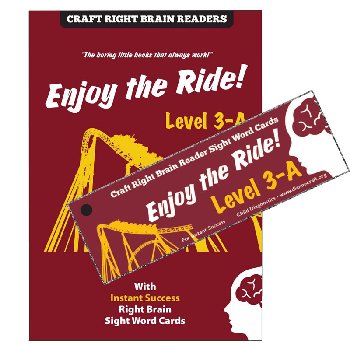 help desk software