Freedom Underground Railroad Game and Expansions
Immerse yourself in history! As players, you'll become abolitionists and work together to rescue slaves, guiding them from the southern US plantations to freedom in Canada. Step into the tumultuous years prior to and ending with the Civil War (1810-1865) and learn the laws, societal issues and other key factors that led to the final abolition of slavery. Players must also raise funds, work together, and deal with challenges (such as slave hunters) to spread the abolitionist cause. The game melds several components together: in-depth strategy, role-playing, cooperative play, history education and additional companion products to enhance play. The rules are simple, but play can be in-depth - this is one of those set-up-and-play-for-awhile games. Game components are well made, durable and include a large, map-covered game board (approx 38" x 19"); abolitionists cards that influence game play; setup cards that provide game variations; strategic play cards; 96 slave representative pieces; 6 character cards; 2 slave hunter dice; 4 counter sheets with conductor tokens; fund raising tokens/coins, and a detailed instructional booklet which includes an in-depth historical overview. The included cards provide information explaining the importance of significant figures, events, or concepts and could even form an abolition movement timeline of sorts. Winner of multiple awards, 1-4 players, 1-2 hours play.
An available Teacher's Manual includes five lessons with extension activities and additional resources to incorporate the game in your classroom - think unit study! The guide provides additional primary source material, lessons on the Underground Railroad, and information on the effect of laws during this period. Appendices include Common Core correlations and reproducible student sheets.
CHOKING HAZARD (1). Not <3yrs.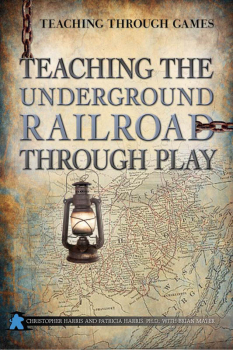 help desk software