Sign Language for Everyone
Learning sign language from Cathy Rice via DVD has got to be second only to actually taking a course, in person, at the Bill Rice Ranch. Or maybe it's better, since you can play it over and over again! Cathy Rice and her late husband, Bill, witnessed and ministered to the deaf and hearing-impaired for more than 40 years. During that time, they taught countless people to use American sign language. Mrs. Rice's experience is evident in her natural, unassuming demeanor. She not only guides you through the over 600 signs in her book, but does so logically, by grouping associated words together to help you better remember the signs. Because the Rices believe strongly in reaching others for Christ, Mrs. Rice gives us the language we need to witness to the deaf in sign.
When Dr. Cathy Rice says her course will teach you all you will need to begin communicating with the deaf, she says it authoritatively. Cathy understands deaf people. Her own child became deaf at two years of age. Longing for her daughter to understand the gospel of Christ, Cathy learned to tell Bible stories in sign language. In the 1950s her husband, Bill Rice, a preacher, started a camp for the deaf near Nashville. Here Cathy taught her first signing class. Having spent most of her life in service to the deaf Cathy makes an excellent DVD teacher. Her lessons move rapidly, require practice, but she provides review and encouragement along the way. The diagrams in the book correspond to the signs Cathy demonstrates on the DVD. You might be surprised how early in the course you'll be able to put together signs to make sentences. Keep practicing and you will soon be able to minister to those who hear with their eyes.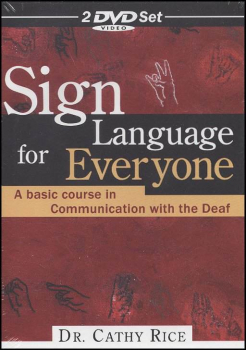 help desk software