American Christian Literature Lightning Literature
Covering literature by American Christian authors that is a mixture of literature on specifically Christian ideas and literature on more general themes. Literature selections include: Poetry from Anne Bradstreet ("To my Dear and Loving Husband," "Another," "As weary pilgrim, now at rest," "By night when others soundly slept," and "Upon the Burning of Our House"), Can You Drink the Cup - nonfiction (Henri Nouwen), "Another Message in a Bottle" - nonfiction (Walker Percy), A Circle of Quiet (Madeleine L-Engle), Wendell Berry - poetry ("Manifesto: The Mad Farmer Liberation Front," "The Way of Pain," "A Meeting," "We Who Prayed and Wept," "In the Motel Parking Lot," "Thinking of Doctor Williams," "Enemies," and "Come Forth"), Godric - novel (Frederick Buechner), "The Artificial Nigger" - short story (Flannery O'Connor), and No Graven Image (Elisabeth Elliot).
Lessons cover skills for college-level writing, giving poetry a close reading, writing a basic essay, reading to respond, and writing a literary essay as well as tools for approaching college-level thinking from a biblical perspective including a Christian approach to the tension between art and message, a biblical response to sin in literature, analyzing the worldview in literature, and finding a basis for identifying and evaluating ideas. For example, "Another Message in the Bottle" by Walker Percy is used to teach reading to respond and "The Artificial Nigger" by Flannery OConnor is used to teach analyzing the worldview in literature (from the publisher's info).
The Student Guide includes information about the authors, comprehension questions, writing exercises, discussion questions and project suggestions, reading lists appropriate to the period or subject, semester and full-year schedules, and a bibliography. The Teacher's Guide is needed if you want the answers to the comprehension questions. It also provides a teaching schedule, teaching and grading aids, and a copy of the writing exercises and discussion questions for the teacher's convenience. The Course Package includes the Student Book, the Teacher Book, and any necessary literature selections not included in the text of the Student Book.
This book is especially useful for upper level students, students interested in cultural issues, and those studying modern history. Greatly enhanced by parent-student discussion (due to some challenging subject matter), this course is more difficult than most of the Lightning Literature courses (except the Shakespeare and the British Medieval courses).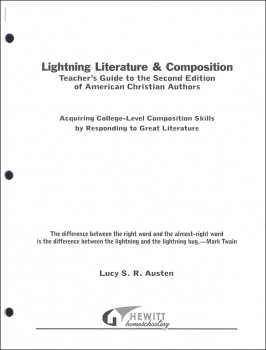 help desk software