Volume 3: Early 1900s to Modern Times
Angela O'Dell's Living History of our World series, now published by Master Book Publishers, retains its conversational, highly-readable text that draws the reader back to whatever time period or person is being covered. You live with them, walk/sail/ride with them, worship/pray with them, and make history with them. Then, in wonderful Charlotte Mason style, you retell their story in your own words, draw pictures, follow them on maps, research and discover background information, copy their words, and make note of whatever special lessons you have learned. The gorgeous Student Books are coupled with user-friendly Teacher Guides, and the result is strongly Christian, highly enjoyable and informational courses. America's Story is covered in three volumes and is directed toward 3rd through 6th graders. The World's Story is covered in another three volumes and is directed toward 6th through 8th graders.
Frankly, the Student Books are amazing. Full of colorful artwork and photos as well as black & white illustrations, vocabulary tidbits, maps, and biographical sketches, it is skillfully formatted into an appealing and engaging text. Each of the 28 chapters (i.e. weekly lessons) have text interspersed with Narration Breaks (place to stop and recount orally the information that has been covered) and questions: "Ready to Explore" (America's Story). Each chapter ends with a two-page photo montage (a feature I love) that pertains to the chapter's focus. For instance, there is a collection of Native American dwellings each with short informational captions in America's Story.
The Teacher Guide is a combination book. It is part teacher book, with some course instructional information, detailed daily lesson plans, an overview of the activities built into the student worksheets, teaching tips for struggling learners, supply lists, suggestions for special projects, and answers for student worksheets. Information for the teacher (about 10% of the book) includes a section on the importance of narration and words of encouragement from the publisher. The remainder of the book is student worksheets (which are reproducible for your own homeschooling family). These worksheets provide the heart of a student's journal to accompany the course. Very nicely designed and well-illustrated, there are daily front-and-back worksheets. These are similar but appropriately different for each age level between the two series. The whole TG is three-hole punched, and for the record, there are no tests in either series.
  America's Story worksheets include Draw-Write pages (journaling lines, space for sketching, copywork), Mini-Project pages (cut & glue projects), Written Narration pages, Timeline pages (cards for each chapter with space for students to create their own timeline), a Special Prayer Book (a cut apart book for writing a weekly prayer for his/her country), and Artist Study (quick introduction to an artist with a variety of related art activities). Mapwork and vocabulary study are also a featured part of these pages.
  You can probably tell I'm enthusiastic about these courses. The conservative biblical perspective, the well-done and user-friendly materials, and the variety of interesting and thought-provoking activities are melded into an excellent homeschooling resource. Student Books are 300 pgs, pb. Teacher Guides are 350 pgs, pb ~ Janice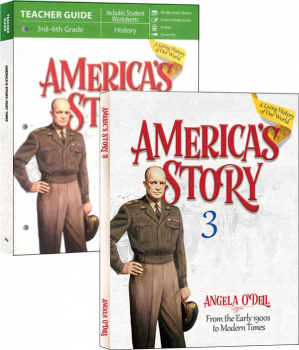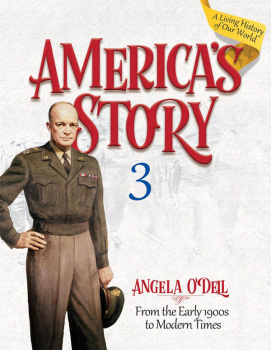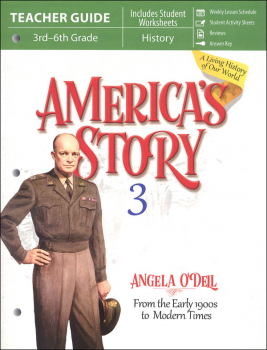 help desk software