Novare Physical Science 2nd Ed.
Please note that this text has been updated to the 3rd edition. Changes include new cover art, some new graphics, corrections of typos and errors and two additional pages have been added to Chapter 7.
Seeing this physical science text for the first time, it doesn't look like other courses Ive taught or encountered. Novare Physical Science is a smaller text, 7x10, and only about an inch thick. You know the old saying, Don't judge a book by its cover! This book may look small, but it is packed with concise information to help students really get to know the area of physical science. Chapters in this book cover matter and atoms, sources of energy, conservation of energy, order and design in nature, forces and fields, substances, science/theories/and truth, measurement and units, properties of substances, force and motion, compounds and chemical reactions, waves/sound/light, electricity, and magnetism and electromagnetism. Every chapter follows the same format objectives are stated, vocabulary terms presented, textual information numbered and divided into digestible amounts, learning checks at the end of each reading section, and an exercise at the end of each chapter. The author believes in questions that require complete sentences as a response, so you wont find any true/false, matching, or multiple choice questions. Colorful illustrations and photos are used to enhance the content of the text.
Novare employs a mastery approach to learning science students should learn, master, and retain, what they learn. A curriculum that uses this approach covers fewer topics and covers them more deeply. This text also integrates learning by combining skills in the areas of science, math, science history, and English language usage. This text is written from a Biblical worldview and seeks to help students see God in the world. Though from a Biblical worldview, the author holds to the view that the world is billions of years old and believes there is evidence for such.
The Resource CD that was previously sold separately has been replaced with a downloadable Digital Resource . This is a separate purchase and includes quizzes, semester exams(2), answer keys for all, weekly review guides, sample course schedule answers to verbal exercises, and more. The author suggests that lab journals and reports be done from scratch in order for students to be ready for high school and even college. At the 6th -8th grade level the author believes students should focus on describing what they did, present their results, and engage with the questions. They should be constantly working toward what the author outlines in his Student Lab Report Handbook (#047300). There are 12 experiments mentioned in the text and complete instructions are found in the Digital Resources file, not in the text.
The Novare courses are used by Memoria Press for their academic rigor and are a good choice for students who need challenging science courses and college prep. ~ Donna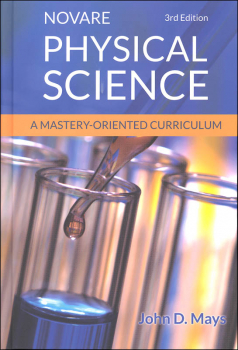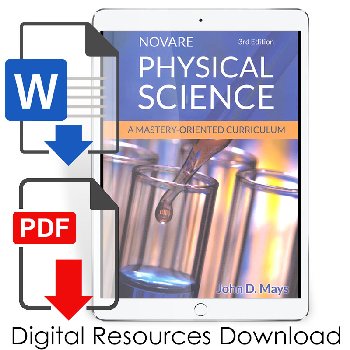 help desk software