Houghton Mifflin Harcourt English Homeschool Packages
Saxon Homeschool - a name you probably associate with math - knows that many homeschoolers are looking for secular materials that correspond to what is being used in the public schools. That's why these packages from major textbook publishers are now available to us. Both elementary and secondary language arts packages contain both student books and teacher materials.
Harcourt Language, which is included in the Saxon Homeschool Language Arts Packages for 1st through 5th grades, is both a systematic grammar study and a model-based writing program that emphasizes the writing process and exposure to the various forms of writing. Packages include a full-color, hardback Pupil Edition, an over-sized, spiral-bound Teacher's Edition (full-text answer key plus presentation information "around the edges"), and the Language Skills and Writing Assessment TE, which contains unit tests, cumulative assessments, answer keys, model papers with annotations, scoring rubrics, primary-trait checklists, and more. Pupil Editions provide six units of instruction each of which includes chapters on grammar and writing. At the back of each student book is a Handbook, which includes writing models, writing rubrics, study skills and reading strategies, spelling strategies, commonly misspelled words, handwriting models, a thesaurus, a glossary, and Vocabulary Power words in context. Homeschool lesson plans are online at saxonhomeschool.com.
Houghton Mifflin also has a quality English program available for grades 1 through 5. This series is developmentally appropriate and concentrates on grammar, usage, mechanics, and the 6 traits of writing. Each kit contains a hefty teacher edition with color-coded lessons that include small format student pages with answers, teaching guidelines around the edges, a booklet of blackline masters, a CD-ROM (pdf files) of handwriting blackline masters, and answer keys for the workbook plus at the bottom of the page. Also included is the student worktext, workbook plus (additional practice for each lesson), and grammar/writing assessment book. There are additional resources available for this series, but must be ordered through the publisher's website. You can also visit eduplace.com for fun educational activities to reinforce the content of this curriculum - no password needed.
Holt Elements of Language, which is included in the Saxon Homeschool Language Arts Packages for 6th through 12th grades, is the "heir apparent" to Warriner's Grammar and Composition. In fact, John Warriner remains on the author list for these books even though he died in 1987. If you've been around the homeschool community for a few years, you've probably heard or read some reference to Warriner's program. It's the elusive gold standard that other programs are measured by. Elusive because books by that name have been out of print for years and are only available on the used market. "Gold standard" because many think that Warriner's mastery approach of "rule, example, and practice" is the way that grammar should be taught.
Part One (Warriner's Handbook) of each Holt course contains sixteen or so chapters that thoroughly cover grammar (parts of speech, parts of a sentence, phrases and clauses), usage (agreement issues, pronouns, verbs, modifiers, and common problems), and mechanics (capitalization, punctuation, and spelling). Part Two covers writing with a focus on sentences and paragraphs. Part Three - Communications - brings it all together with reading and writing workshops that produce all types of writing: narrative, expository, persuasive, problem and literary analysis, and research. The hardcover texts are full-color with pleasing layout features and interesting sidebars. The sheer size (900+ pages) can be a bit intimidating until you realize that as non-consumables, many of the exercises are written in such a way that the student need only write single words, or letters on their own papers. Also, the last 150, or so, pages are a Quick Reference Handbook. Saxon plans to have homeschool lesson plans available for these courses as well.
Holt Elements of Language packages include the student edition and the Teacher One-Stop DVD-ROM. The Teacher One Stop DVD-ROM is a powerful resource designed to give a classroom teacher all the tools needed to dynamically teach the course. It includes editable worksheets, customizable lesson plans, an assessment package that allows you to form, edit, and print tests, resources for PowerPoint presentations, a calendar planner, and a puzzle-maker that generates word searches and crosswords to provide reinforcement for vocabulary studies. I can almost hear you saying - "But I don't need all those things." What's nice about the DVD-ROM is that you can pick and choose what you want to use based on what you do need. It could be as simple as using the pdf version of the full-text answer key for correcting your student's papers. However, navigation through the DVD-ROM is fairly easy so you might find yourself using more than you expect. The DVD-ROM works on both Macs (OS 10.2-10.4) and PCs (2000, XP, Vista) but requires latest versions of Adobe Reader (free download) and a web browser. NOTE: The tests can only be printed out if you visit the website go.hrw.com and enter the keyword in the box at the bottom left. Other teacher resources may not be available to homeschool teachers due to publisher restrictions.
With these packages Saxon has given us strong language arts courses - college-prep at the high school level - that meet state and national standards. Courses are only available as packages; student books cannot be purchased separately. ~ Janice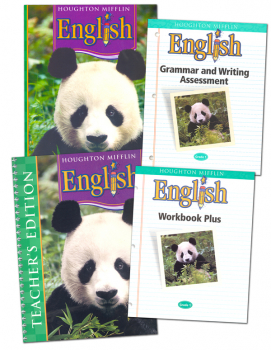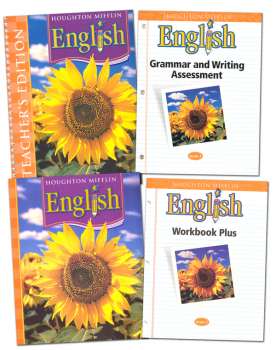 help desk software