Test Best on the Iowa Tests of Basic Skills Series
Iowa Tests of Basic Skills (ITBS) is one of several state specific tests being used today. Taking as its creed 'preparation is the key to better scores,' objectives of this program include awareness of test-taking strategies, directions, content and skills, test format, and an understanding of how the test is administered.
Student books are divided into units that are found in the ITBS. Units vary by grade level, but can include vocabulary, word analysis, listening, reading comprehension, spelling, language mechanics, language expression, math concepts and estimation, math problem solving, math computation, sources of information, reference materials, and maps and diagrams. Each lesson within the unit will include clear directions such as those found in the ITBS. 'Try This' allows students to approach each lesson exercise in a logical manner. These are little things to think about while taking the test, like, "Read each problem carefully, then decide how to find the correct answer." A sample to familiarize students with the items in this section is given. 'Think it Through' gives a specific explanation of the answer in the sample, and explains why the other answers are incorrect. A practice set of lesson-based exercises follows. Students will fill in dots at the bottom of each practice page for their answers. Each unit is followed by a unit test which covers all of the skills found in that unit. Comprehensive tests round out the book, one for each unit. These comprehensive tests follow the same format as the ITBS, and students use the answer sheet at the back of their booklet to gauge their work.
Teacher's editions contain a scope and sequence for that level, along with reduced student pages and complete answers. Lessons are scripted with detailed plans and suggestions for teaching and administration of each. A table of suggested test times is also included. An introductory lesson is included in order to acquaint students with the Test Best series. The teacher's edition is a must if you want to do this program. Put your nerves at ease: this series could be the answer to your ITBS jitters. Donna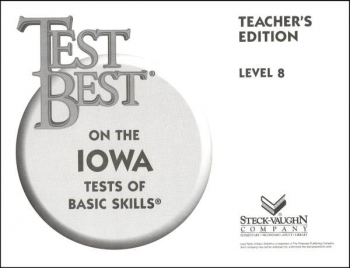 help desk software