Latin Road to English Grammar
Is it an English grammar or Latin course? Well, both. While it primarily teaches Latin, its purpose for students is to "gain a better knowledge of English grammar and vocabulary through the study of Latin." It succeeds admirably. Students can start using the program as soon as they have finished a basic phonics program and have a foundational understanding of English grammar - probably about 5th grade. The first lesson in Volume I introduces the Latin alphabet and its pronunciation and reviews English grammar. Then, English grammar is examined alongside the teaching of Latin as structural similarities and differences are noted. Every multiple-part lesson includes a Christian or patriotic reading in Latin. These and other words and phrases used in the lessons are included on two Latin pronunciation CDs. The author has chosen to use Church Latin instead of the "Classical" form of pronunciation as it is the only pronounced Latin in use today (in church liturgies and classical music texts). The author, Barbara Beers, was a Writing Road to Reading instructor and utilizes a similar method of learning in this course. Students construct a Latin notebook as part of the learning process. If you have no Latin background yourself, you'll want to do the same. In fact, the Teacher Guide binder includes a sectioned notebook for you. Barbara suggests staying a few days to a week ahead of your student in order to be an effective teacher. She has made it super easy to teach the course. Teacher notes and lesson plans have a friendly tone and are very clear and detailed. A suggested daily schedule is included. Besides all of this, the binder also contains charts for lessons, reproducible tests and a map. Sturdy vocabulary cards are provided with the curriculum, too. Excellent for drill, these are color-coded according to type of word and gender. The student text consists of instruction and exercises (non-consumable) in the first half of the book, glossaries in the middle, and perforated, tear-out worksheets and test forms in the last half. To reuse with another student, you can purchase just the worksheets/test forms. Complete Sets contain everything you need to get started, including the textbook, teacher's guide, pronunciation CD and vocabulary cards. Student Notebook Packages are useful extras that help keep students organized. This packages include a 1" three-ring binder, printed tabs, colored notebook paper and pens, and the Latin Comprehensive Reference Guide.
If you've had difficulty fitting an "extra" course in to teach Latin or foreign language, using this course would greatly reduce your English load. You would still need to teach some mechanics and composition, but grammar and usage would be pretty much covered here. The three-year course is also the equivalent of two years of High School Latin instruction, so your child can complete her language requirement before high school and be prepared for studying another language.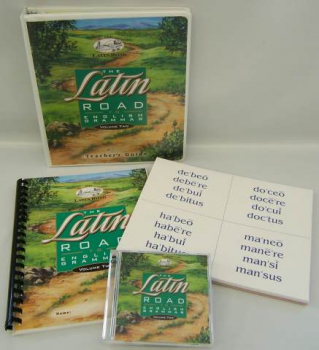 help desk software