Bilingual Songs & Bilingual Kids Workbooks
These CDs from Sara Jordan feature peppy songs with native speakers that help students learn basic vocabulary in Spanish, French or Mandarin Chinese. Volume 1 focuses on the alphabet, counting to 10, days of the week, months of the year, weather and seasons, colors, food, animals at the zoo, parts of the body, clothing and family members. Volume 2 contains songs on counting to 30, emotions, places in the community, opposites and measuring devices. The Volume 3 English-Spanish set showcases introductions, genders, plurals, dates, there is/are, descriptive adjectives, possessive adjectives, this or that, these and those, and capitalization. Volume 3 English-Spanish includes songs about formal/informal 'you,' unisex nouns, the verb 'to be,' phone numbers, adverbs of frequency, question words, how much/how many, pen pals, superlatives, and question marks/exclamation marks.
Each CD comes with a lyric book that features the song lyrics in both English and the foreign language as well as supplementary reproducible activities. I listened to one of these at a trade show and was impressed by the clarity of the lyrics, the professional-quality, and the up-beat music that reflects the culture of the language being studied. (Watch out for those Spanish ones - you may be salsa-ing around the room instead of singing!). Both male and female native speakers sing the songs, giving students a good feel for what the language sounds like.
Workbooks are also available, which correspond to the CDs. Although you can use the CDs at any level, the CD & workbook would be a good first introduction to a foreign language for slightly older kids (4th-7th graders). And while you could use the workbook alone, your students will get the most out of the workbook if you add the corresponding CD. I looked at Level 1 Spanish for this review. These are easy to use and cover listening and speaking skills with the CDs, such as following directions, promotion of cultural exchanges with native speakers, and developing critical thinking skills.
Writing and reading exercises provide a complete learning experience with answering short questions, word boxes, filling in missing words, finding secret messages, coloring, matching, drawing, charts, signs, and song lyrics. Level 1 grammar includes interrogative, affirmative and negative constructions, nouns/pronouns, gender of nouns, adjective agreement with nouns, prepositions, definite articles and the present tense of the verbs to like (gustar) and to want (querer.) Vocabulary building includes the integration of new words into lessons, using basic vocabulary (colors, numbers, home, time, expressions, calendar, family, sports, professions, etc.) and exercises like word scrambles, crosswords, and letter soup. Spelling activities include alphabetization, capitalization and punctuation particular to the language.
The author makes a point to provide the opportunity to communicate in the language, understand cultures that speak the language, connect and apply language knowledge to other content areas, make comparisons with one's own culture, and make kids aware of how learning a language applies to their life and future profession. Helpful parent/teacher tips, bilingual directions, and answers are also included. Each book consists of a semester of work if you do the activities once or twice a week. 62 pgs, pb. ~ Sara / Jess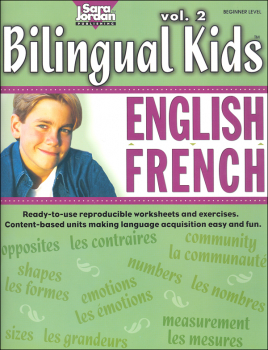 help desk software