myWorld Social Studies Elementary Homeschool Bundles
Please note: all levels have transitioned to online products, so packages now contain information on setting up online access to SavvasRealize.com. Digital material is no longer packaged on DVD-ROM.
History is best learned through the medium of storytelling. The story format helps students understand and retain more as they personally engage with the stories of our past and learn the impact that our past can have on our future. This is accomplished through a combination of print and digital instruction that integrates students own stories with the history being studied. The printed portion is the Student Worktext. I have a sample of grade 5B open while writing this and the basic chapter layout is in six sections: myStory Spark, myStory Video, the lesson pages, a study guide, review and assessment, and myStory Book. MyStory Spark encourages students to consider an important concept from the chapter ahead and write a short opinion piece based on their experiences and knowledge. The myStory Video section features a three-page story that connects the history discussed in the chapter to real life and lays a foundation for discussion and critical thinking activities. The lesson section is written directly to the student and includes support for students in the younger grades who are still learning to read well. Throughout the text you will see vocabulary words highlighted, big ideas summarized, and many small activities that turn this text into an interactive student worktext. While many textbook approaches simply show data, charts, and pictures to students reading the pages, students of this course engage with the text by actually writing the captions for the photos, completing charts and diagrams using the information from the text, creating posters to illustrate ideas, and answering quick questions about maps and pictures (to name just a few of the interactive activities). This is in addition to the Got It? and Try It! sections that ensure the students are understanding the text and able to apply the knowledge they have retained. The Study Guide and Review and Assessment sections provide summaries and questions for each lesson within the chapter. The final section of each chapter is myStory Book. This unique feature uses a free online tool to help students write, illustrate and publish their own story online, using the history studied as a launchpad for ideas. Students can then obtain actual printed copies of their book for a fee.
The online resources include: myStory Video and the Teacher Resource Library. The myStory Video contains the video version of the story that students read at the beginning of each chapter like a recorded field trip. The Teacher Resource Library contains a wealth of helpful resources for the teacher in an easy-to-use drop-down menu tree: a full teacher guide for each chapter with lesson plan summaries; podcasts on teaching the subjects at hand; editable copies of student worksheets; editable tests for each chapter, with answer keys; hands-on activities; leveled reading lesson plans; and other general resources such as graphic organizers, maps, and correlations to national standards. Answers to the student pages and assessments can be found in the eText Teacher Edition or more conveniently under each chapter or topic section. Please note that some of the online content referenced in the program may not be accessible to homeschoolers. ~ Zach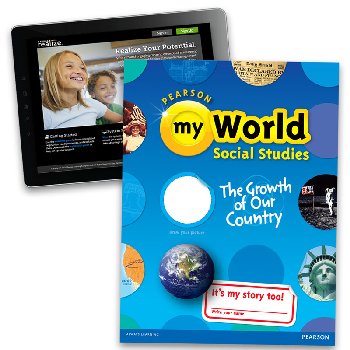 help desk software