The Principle Approach is a view of American history that is fully integrated with a biblical and Christian worldview; a worldview that recognizes God's providential hand not only in today's events but in all events in our nation's history and events many years or even centuries prior to our history that have impacted our development as a nation. If you suspect that such a perspective on history will result in a different scope and sequence for its study, you would be correct. Written in a highly readable, story format, the Mighty Works of God series of American history books for elementary students provides that perspective. While you will find many familiar stories of the major events in our nation's history, there are also some not-so familiar stories and some that, at first glance, don't seem to belong in an American history book at all. For instance, in Self Government, an account of Wycliffe; in Divine Providence, there is a story about Paul preaching on Mars Hill; and in Liberty and Justice for All, the story of Queen Esther.
God commands His people to remember all He has done for them. This comes somewhat easily for us in terms of our own personal history but what about in our nation's history? History (or His story as some like to say) records the evidence of God's use of individual men and nations to move Christianity westward. This westward movement produced America and her Christian form of government. Each year, in the Mighty Works of God series, nine links are studied; links which moved Christianity westward, Creation, Moses (and the law), Christ (the focal point of history), Paul (Christianity moved westward), Bible (in English), Columbus (link to the new world), Pilgrim (seed of our Christian republic), Patriot (first Christian republic), and Pioneer (westward movement and falling away). While the beginning links are introduced simply and then expanded each year, the bulk of each year's study is focused on events of American history. There is a continuity built into each year's story, a continuity that emphasizes that God has worked through specific events and speculates on how different things might be today if specific outcomes had been different. However, there is also the sense that the nine separate threads are being developed individually as you progress through the series. For instance, the Bible thread traces the development of the Bible in English (and specifically in the KJV) through historical events and the people involved in translation.
The Student Texts are essentially illustrated readers. Currently four books are available of a proposed seven-year scope and sequence. Self-Government is first; Liberty and Justice for All is second; Divine Providence is third, and Self Government with Union is fourth. Vocabulary and sentence structure increases with each level while the font size becomes smaller. While not grade specific, Self-Government is recommended for primary grades; Liberty & Justice for All for elementary grades; and Divine Providence for middle elementary, and Self Government with Union for middle to upper elementary. Chapters are interspersed with poetry and the content is rich in biographical sketches and memorable events. Illustrations are full-color, well-done original artwork, maps, and sometimes concept schematics.
The Teacher's Guides transform the Student Texts from an intriguing read into an exciting examination of the Providential perspective on American history. In a highly user-friendly format they include a brief overview of the course, a section on how to use the teacher's guide, and detailed plans for teaching through the chapters including the number of days to spend on each. These plans include; the leading idea, questions for reflection and reasoning, and suggestions for student input into their notebook for each section. An included CD-ROM of pdf files provides full-color maps and student activity pages to aid the student in preparing a notebook designed to reinforce and illustrate concepts as well as review historical content.
While this approach may seem unusual to our chronologically-oriented traditions, I suspect that once this perspective is embraced, everything changes. ~ Janice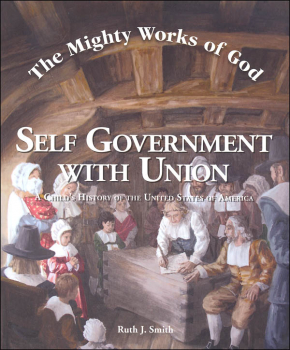 help desk software