Windows to the World: Introduction to Literary Analysis
I'm itching to teach this course! Maybe it's the appeal of the topic - recognizing the power of literature to influence readers for good or for ill. Maybe it's the fact that this well-structured curriculum makes such a study very manageable. Maybe it's because the author adopts a warm, first person approach to the study. Whatever! I'm already devising ways to come up with students for a class now that my own homeschool students have graduated and moved on.
Windows to the World is a high school level course offered by the Institute for Excellence in Writing. The course presumes that its students will be able to write an understandable paragraph with a topic and clincher sentences and that they are interested in an academically challenging study. There are fifteen units often focusing on a particular aspect of literary analysis - annotations, allusions, plot & suspense, characterization, symbolism & emphasis, theme, setting, imagery, point of view, tone, and irony. The well-chosen short stories and poetry are "unlocked" and made to reveal their secrets through exercises, quizzes, essays, and projects. For instance, unit 7 is on characterization and has as one of its objectives to understand and recognize different kinds of characters, such as protagonist, antagonist, stock, and foil. This unit can be spread over one to two weeks with the unit plan presenting a set of 12 discussion points, projects, and assignments. These sometimes refer back to a previously studied piece for examples and sometimes present new tools like the "character arc" to aid in understanding. Some of the activities/questions listed are considered "core" and some are listed as supplemental or reinforcement. These designations are helpful in determining class priorities if time is limited or if you choose to complete the study over the longer time span. The Teacher's book provides background information for the stories, vocabulary exercises, detailed instructions (just short of scripted) for the main teaching points, sample essays, and suggestions for additional work. All questions and discussion topics have answers or talking points. Although the teacher would need to be comfortable with the topics and the studies, the support material is so strong that preparation would be minimal and success almost assured. Throughout the teacher's material the author is writing in first person making it seem as though you have a master teacher "holding your hand" and mentoring you through the entire course.
That same warm, first-person tone permeates the student book. Each unit includes well-illustrated (by examples) instructional information written directly to the student (not included in teacher's book). All literary material (short stories and poems) except some Bible passages is included in the student book (also not in teacher's book). Many of the activities involve worksheets which are provided in the student book and are reproducible for home and classroom use although families participating in a co-op class should be encouraged to purchase their own student materials. Both teacher's and student's books are required for the course with little overlap between the material in each.
Windows to the World is designed to be a semester course but could be taught in a condensed version in five or six weeks or extended to a year's study by adding the additional stories and projects suggested in the teacher's book. This course would definitely be considered a college-prep level course. Those completing it would be well prepared to continue on with Advanced Placement level preparation. Although the reading assignments are frequent, they are not massive. The author is wanting the student to spend quality thinking time with the material and activities, projects, and assignments work toward that goal. The student will be expected to write - often and well. Assignments are frequent and range from "quick write" paragraphs to researched essays. An unstated but very discernible goal of the course is the development and strengthening of the student's biblical and Christian worldview. Student - 194 pgs; Teacher - 129 pgs; both pb, spiral. ~ Janice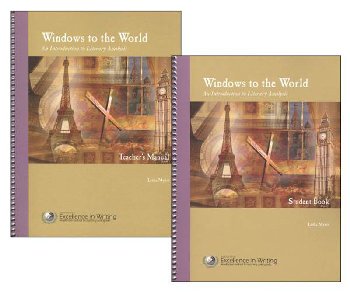 help desk software