Chinese Flash Cards (Tuttle)
Whether you are preparing for China's official Mandarin Chinese proficiency exam (the HSK) or want to reinforce your language study, these flashcard sets build a solid foundation. The HSK is an international, standardized, Chinese language proficiency exam and is required for those wishing to study at a Chinese university or work with Chinese companies.
The numbered, 3.5x2.25" cards are dual sided. One side shows the specific Chinese character (1" in size), and then in smaller print, you'll find the character written in stroke order and used in four common phrases or compound words. So, you'll learn additional vocabulary as well. The opposite side shows the Chinese character and those same 4 words, including the Pinyin (Romanization) and the English translation. An additional nice feature is that cards indicate similar, often confused characters as well as those which are typically combined.
Volume 1 covers the vocabulary from the HSK Elementary Level exam, teaching the 349 most basic Chinese characters. These cards equate to the HSK Level I and II certificates (the equivalent of 400-2000 hours of Chinese coursework). Volume 2 builds on the first and covers 273 characters for the HSK Intermediate Level III certificate. The sets include hole-punched cards with an organizing ring; a 32-page study booklet provides basic introduction and methods to sort index cards by card number, radicals and strokes or practice, and an included audio CD to hear pronunciation of words and sentences from native speakers. ~ Ruth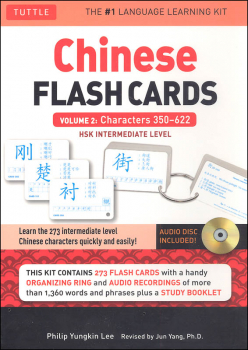 help desk software