Knowledge Box Central is now using their lapbook know-how to make state studies more hands-on and interesting. These studies are available for two age groups, K-8 and 6-12. The content is the same for both age groups, but formatted differently to be age appropriate. This comes in handy because parents can do the same study with different grades.
The study guide for each state includes symbols, songs, landmarks, famous people, regions, recipes, timelines, state history, and more. There are also website suggestions at the end of the study guide for additional information, and it is suggested that you collect pamphlets or brochures about your state as well. This study guide is included in all formats of the Lapbooks and Lapbook Journals. I think the study guides are a big plus for this series because they include the general information you need to fill in the booklets and journal pages. More specific information (governor's name, etc.) can be found at the website resources or in the brochures or pamphlets collected. Also included are instructions and colored illustrations to complete the Lapbooks.
The K-8 Lapbook is available in 3 different formats - pre-assembled, printed, and CD-ROM. In the Pre-assembled format, the lapbook is already built: students simply fill in the information. The Printed format includes the booklets, which must be cut out and glued into folders (you will need to buy folders separately). The CD-ROM format includes pdf files of 31 booklets for you to print, cut out, and glue into the folders you provide. If you are assembling your Lapbook, you will also need scissors and possibly metal brad fasteners, paper clips, ribbon, yarn, stapler, hole punch and decorations of your choosing.
The 6-12 Lapbook Journal comes in two different formats - printed and CD-ROM. The Printed format gives you the formatted pages, ready for the student to write in the information, and the CD-ROM includes pdf files of the pages to be printed and completed. In addition to the Lapbook Journal, you will need 2" 3-ring binder, scissors, glue, stapler/staples, ribbon, hole punch, metal brad fasteners (optional), crayons, or colored pencils. If you printing your pages from the CD-ROM, you will need both white and colored paper and light colored cardstock. Students will complete about 13 journal pages with fill-in or writing assignments, a two-page state report, and 6 booklets to complete.
Whatever your preference for the format, enjoy these state unit studies with all of your children, no matter their age. They make a great state unit study without the need to gather many books. The Pre-assembled and Printed formats aren't reproducible, but the CD-ROM allows you to print what you need for your family.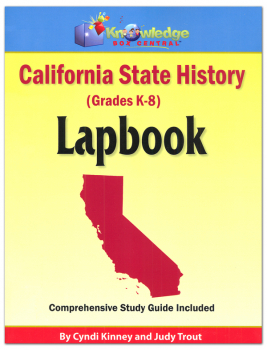 help desk software